Moderator: Moderator Team
Pitcher (300 posts)
Posts: 300
Joined: Mon Nov 20, 2006 1:16 pm
Location: Dayton, Ohio
I am just getting into home roasting after trying some of my Dads coffee during his last visit. It is amazing the difference between fresh roasted coffee and the stuff you buy at the store. I ordered several pounds of green coffee beans which are going to be delivered today, and an I-Roast, which won't be here until thursday, oh the horror. Is there a good way to roast some before my I-Roast arrives? I have read instructions on roasting them in a frying pan, a popcorn popper, and in the oven. Anyone have any experience with any of those methods?
I have an air popper, but it is the kind with the perforated bottom, which is not recommended for roasting.
I also have a convection oven, which should circulate the hot air nicely, if I choose to do it that way.
I also have an electric wok that will go to 450 degrees F.
or should I just use a skillet?
TIA
"Here sleep in peace a Hampshire grenadier,
Who caught his death by drinking cold small beer;
Soldiers, take heed from his untimely fall,
And when you're hot, drink strong, or not at all." --Epitaph on a soldier's grave
---
Pitcher (300 posts)
Posts: 300
Joined: Mon Nov 20, 2006 1:16 pm
Location: Dayton, Ohio
Too late now.
Got home from work and broke out the cast iron dutch oven. Put it on the stovetop on medium to medium high heat, adjusting as necessary. took about 22-23 minutes for what appears to me as between a city and a full city roast. degassing now in the mason jar, can't wait to try it tomorrow
pictured is 8 ounces of Panama Carmen Estate 1800+ Meters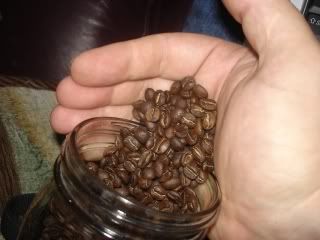 "Here sleep in peace a Hampshire grenadier,
Who caught his death by drinking cold small beer;
Soldiers, take heed from his untimely fall,
And when you're hot, drink strong, or not at all." --Epitaph on a soldier's grave
---
Pint Glass (25 posts)
Posts: 90
Joined: Wed Dec 27, 2006 7:16 am
If the coffee tasted good, thats great. If it didn't taste as you thought it would. it might be that 22 min. is more of a bake than a roast. In a perfect world the first crack should be at 5 to 7 min (city roast) but the proof is in the pot. It you like it, drink it. Welcome to the wonderful world of home roasting. Roast on Dude.
---
---